Social mixers, special tournaments or pop-up clinics—we'll keep you social and swinging!
Tennis Pop-Up Events
When there are a few empty courts, we'll create an event!
Please make sure we have a current email if you'd like to be in the know about these late-breaking matches.
RPM Elite 12u 2021 Tour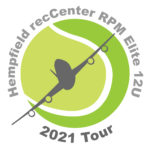 Calling all RPM Elite 12u players!
We will be offering tour dates throughout the year so you can work on your competitive skills.
The more you play and win, the more points you will accumulate to qualify for the Master's event in the fall.
Contact Head Tennis Pro Bryan Fox for additional information at 717-898-3102 ext 140.
Schedule

| Date | Day | Time | Code | Price |
| --- | --- | --- | --- | --- |
| Jan 30 (Australian Open) | Sa | 2:00–4:00 PM | #214812 | $10M/$13NM |
| Feb 27 (Acapulco Open) | Sa | 4:00–6:00 PM | #214812 | $10M/$13NM |
| Mar 20 (Indian Wells) | Sa | 2:00–4:00 PM | #214840 | $10M/$13NM |