About East Petersburg Pool
• 2575 Graystone Rd East Petersburg, Pennsylvania 17520
• 717-898-3102 ext 301
• Outdoor L-shaped main pool with the deep end being the bottom of the L.
• 25 meters long with a diving board and two lap lanes.
• Wading pool for children ages 0–9 Parents must be poolside when children are using this pool.
• Air and water temperature must equal 70 degrees or above for the facility to be open.
• Small parties can be held during most open hours. Please check with management.
• Open Memorial Day weekend thru Labor Day
Hempfield recCenter and East Petersburg Pool Guest Policy
Any guest, REGARDLESS OF AGE, is subject to a $10 guest fee. Infants included.
Parents with an individual or family membership may bring their children, ages 3 and under, free of charge.
Senior members bringing grandchildren into the facility who are not on a membership are subject to the $10 guest fee, regardless of the child's age. Infants included.
No walk-in guests during the hours of 9AM – 12PM Monday through Friday at East Petersburg Pool. MEMBERS AND PUNCH CARDS ONLY DURING THIS TIME.
Hours of Operation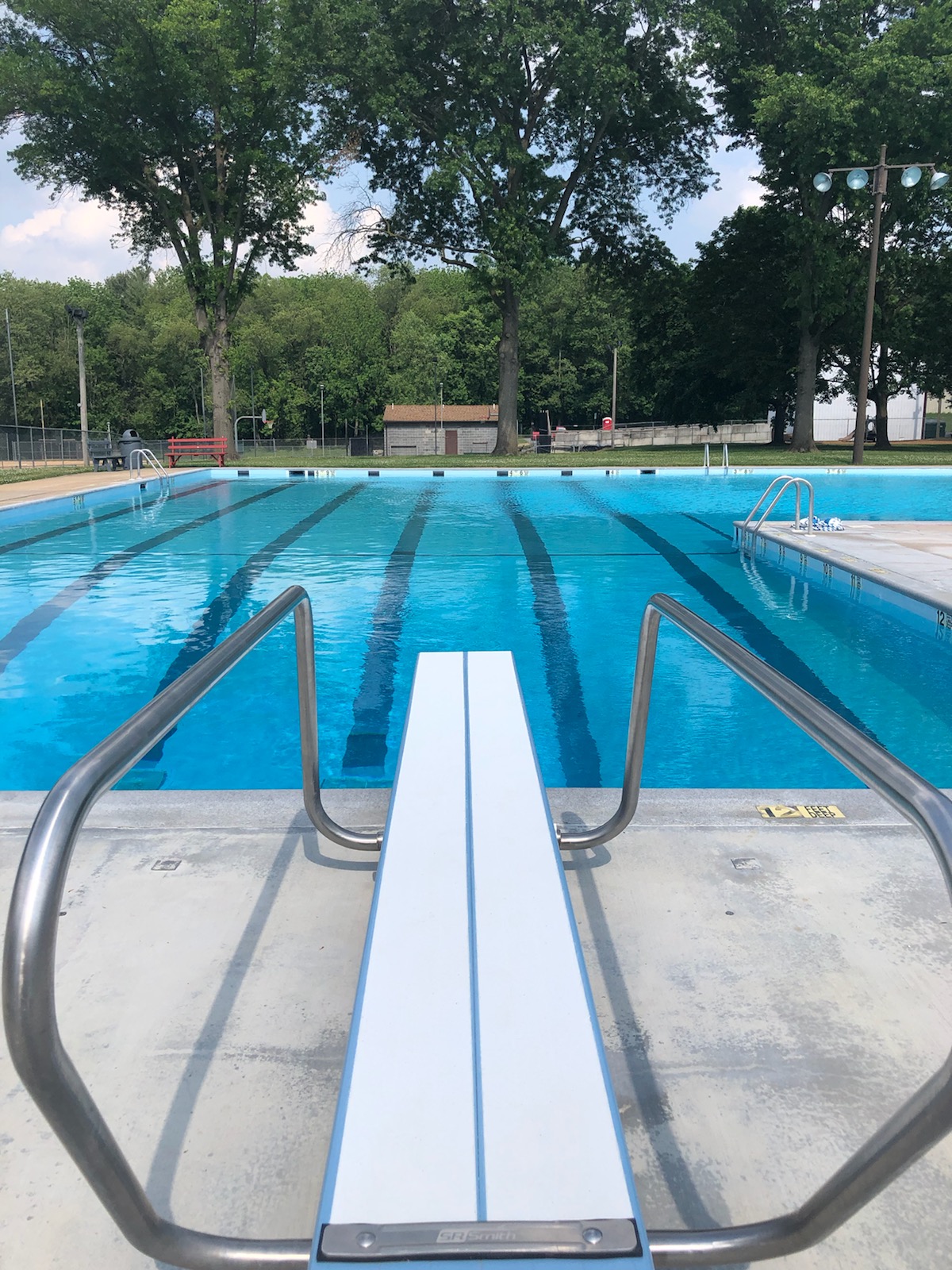 Saturday, May 29th–Monday, Sept 6th, 2021
Weekdays
10:00–11:00 am Senior 62+ Free Swim and Lap Swimming (Members Only)
11:00 am–12:00 Water Aerobics and Senior Lap Swimming (Members Only)
12:00–8:00 pm Open Swim
Weekends
12:00–8:00 pm Open Swim
Phone for East Pete pool – 717-898-3102 ext 301
East Pete Pool Schedule Changes
East Pete Hours – weekdays during school 4-8p
June 25th No morning lap swimming, senior swim or aerobics class due to private party
Food Truck Frenzy!
Our concession stand will remained closed for the 2021 season.
Food trucks from local businesses and organizations will be in attendance at East Pete Pool throughout June and July this year.
Please see the below schedule for dates, trucks, and times.
June 2021 Food Truck Schedule

| Date | Day | Truck | Time |
| --- | --- | --- | --- |
| June 9 | Wednesday | Dough Heads Stuffed Waffles | 12:30-5:30 |
| June 10 | Thursday | Walk-O Taco | 12:30-5:30 |
| June 12 | Saturday | Mista Twista | 1:30-4 |
| June 14 | Monday | Chubby Unicorn | 12:30-5:30 |
| June 15 | Tuesday | Grappling Crab Shack | 12:30-5:30 |
| June 17 | Thursday | Walk-O Taco | 12:30-5:30 |
| June 18 | Friday | Piper Belle BBQ | 12:30-5:30 |
| June 21 | Monday | Chubby Unicorn | 12:30-5:30 |
| June 22 | Tuesday | Grappling Crab Shack | 12:30-5:30 |
| June 23 | Wednesday | Piper Belle BBQ | 12:30-5:30 |
| June 25 | Friday | Piper Belle BBQ | 12:30-5:30 |
| June 26 | Saturday | Wich Way Sandwiches | 12:30-5:30 |
| June 28 | Monday | Wich Way Sandwiches | 12:30-5:30 |
| June 30 | Wednesday | Piper Belle BBQ | 12:30-5:30 |
July 2021 Food Truck Schedule

| Date | Day | Truck | Time |
| --- | --- | --- | --- |
| July 2 | Friday | Piper Belle's BBQ | 12:30-5:30 |
| July 3 | Saturday | Mista Twista | 1-4 |
| July 6 | Tuesday | Walk-O Taco | 12:30-5:30 |
| July 7 | Wednesday | Wich Way Sandwiches | 12:30-5:30 |
| July 8 | Thursday | Piper Belle's BBQ | 12:30-5:30 |
| July 10 | Saturday | Walk-O Taco | 12:30-5:30 |
| July 11 | Sunday | Walk-O Taco | 12:30-5:30 |
| July 12 | Monday | Chubby Unicorn | 12:30-5:30 |
| July 13 | Tuesday | Walk-O Taco | 12:30-5:30 |
| July 14 | Wednesday | Wich Way Sandwiches | 12:30-5:30 |
| July 16 | Friday | Piper Belle's BBQ | 12:30-5:30 |
| July 17 | Saturday | Walk-O Taco | 12:30-5:30 |
| July 19 | Monday | Chubby Unicorn | 12:30-5:30 |
| July 21 | Wednesday | Wich Way Sandwiches | 12:30-5:30 |
| July 22 | Thursday | Piper Belle's BBQ | 12:30-5:30 |
| July 23 | Friday | Mista Twista | 12-2:30 |
| July 28 | Wednesday | Wich Way Sandwiches | 12:30-5:30 |
| July 29 | Thursday | Piper Belle's BBQ | 12:30-5:30 |