Click here to view the NOVEMBER Senior GrpX Schedule
Click here to view the NOVEMBER GrpX Schedule
Membership Options

| Type | Price |
| --- | --- |
| Member | Unlimited FREE classes |
| Tennis Member | $50 per session |
| Non-Member | $90/R $100NR per session |
| Guest/Pay as You Go | $10 per class |
New Classes coming in NOVEMBER...
Ballet for Fitness, Balance, and Strength
Unleash your inner dancer and get a great workout while building balance, strength, flexibility, and grace. Perfect for anyone who has always wanted to dance! We will explore the movements of Ballet in a fun, energetic class that is sure to make you smile and sweat!
Look for it Monday and Wednesday evenings 5:30-6:30 in studio 1
Belly Dancing for Fun and Fitness 
A Dance with roots in the Middle East, this class will explore the power, grace, strength, and sensuality of this form. We will work with every part of our bodies: head, hands, arms, hips, and legs! Come shake your hips and get your workout on! Bring a scarf or something to wrap around your hips for the ultimate experience!  (Ages 8+ permitted with participating adult)
Look for it Monday and Wednesday evenings 6:30-7:30 in studio 1
POUND®
SWEAT. SCULPT. ROCK.
POUND® is the world's first cardio jam session inspired by the infectious, energizing, and sweat-dripping fun of playing the drums.
Power Yoga
This class is designed for members looking to advance in their practice. Power yoga works to build a stronger physical body, as well as a stronger connection to the breathe and mind.  This class incorporates meditation, stretching, and movement to achieve a total workout.
Sweat & Sculpt
Looking for a nice mix of cardio and toning? This class will incorporate some cardio along with exercises for all major muscles groups.   Tone, strengthen, sculpt…feel great! Tammy Sims, instructor.
BODYPUMP™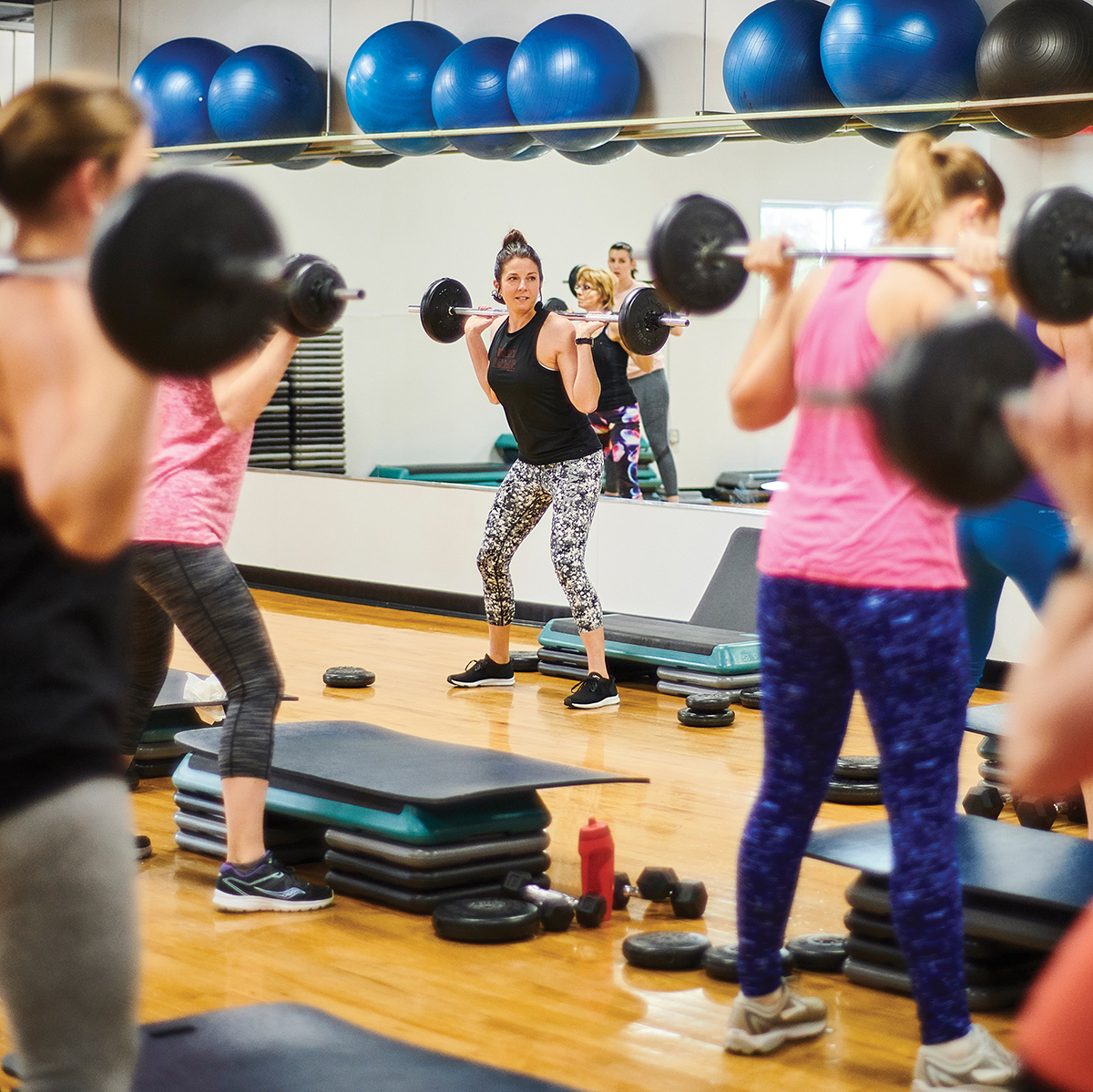 Using light to moderate weights with lots of repetition, BODYPUMP™ gives you a total body workout while burning up to 540 calories. Instructors will coach you through scientifically-proven moves and techniques pumping out encouragement and motivation to great music—helping you achieve much more than on your own! You'll leave the class feeling pumped and ready to come back for more.
Bodyweight Bootcamp
A high intensity workout using a bench and mat, set to timed intervals, and is designed to work all your muscle groups from head to toe. All bodyweight exercises with a little kickboxing thrown in will be sure to kick up your heart rate as well. Options for regressions/lower impact cardio and progressions for a higher intensity workout are always shown.
Dance Energy
This lively dance class will be sure to torch some calories with HIIT inspired dance moves to a variety of music. From today's hits to 90's hits and even some oldies, you'll be dancing the afternoon away to some of the best booty-shaking music out there! It's so much fun, you won't even know it's a full-body workout. Bring your friends for this fun, can't miss workout!
Dance Fit
Dance Fit is cardio dance class mixed with strength and toning. Easy to learn dance routines with segments of shoulder, arm, leg, butt and core tracks to tone your body even more.
Power Yoga
Power yoga, which can also be similar to Vinyasa yoga, is a fast-paced style of yoga that focuses on building strength and endurance through both movement and intermediate poses. Power yoga requires mindfulness and focus on breathing and is dynamic in its approach to the mind-body connection. This is a 45-minute class and is accessible to most who are looking to advance in their yoga practice or just find an effective cardio/strength workout.
Senior Cardio Tone
Senior cardio is a low intensity cardio class for seniors or beginners that provides excellent cardiovascular conditioning with toning and flexibility work. You won't stop moving as you get a great overall body workout.
Senior Strength
This class provides a total body workout and includes a variety of movements to increase muscle tone and build your endurance while incorporating balance moves and stretching for increased flexibility. Strength training uses hand weights, Pilates exercises, balls and resistance bands. There is also core work with a balance routine. Participants may sit or stand.
High Intensity Interval Training (HIIT)
Get in the best shape of your life (and look like it, too) with these cardio-pumping, fat-blasting interval workouts. HIGH-INTENSITY INTERVAL training (HIIT) provides maximum calories burned within a minimum amount of time. The idea is that you do short periods of all-out work followed by short periods of active rest to make the body work harder than it does during steady-state cardio. Workouts are designed to burn fat, build muscle, and enhance sports performance.
Total Body Conditioning (TBC)
With Total Body Conditioning, you'll work all major muscle groups during each hour-long class. The program changes every class, so you will always be challenged and never bored! Features cardio, agility, strength, plyometric and solid core progressions. Perfect for cross training!
BODYATTACK™
BODYATTACK™ is a high-energy fitness class with moves that cater to beginners as well as total addicts. We combine athletic movements like running, lunging and jumping with strength exercises such as push-ups and squats. A certified Les Mills™ instructor will pump out energizing tunes and lead you through the workout—challenging your limits and leaving you with a sense of achievement.
BODYCOMBAT™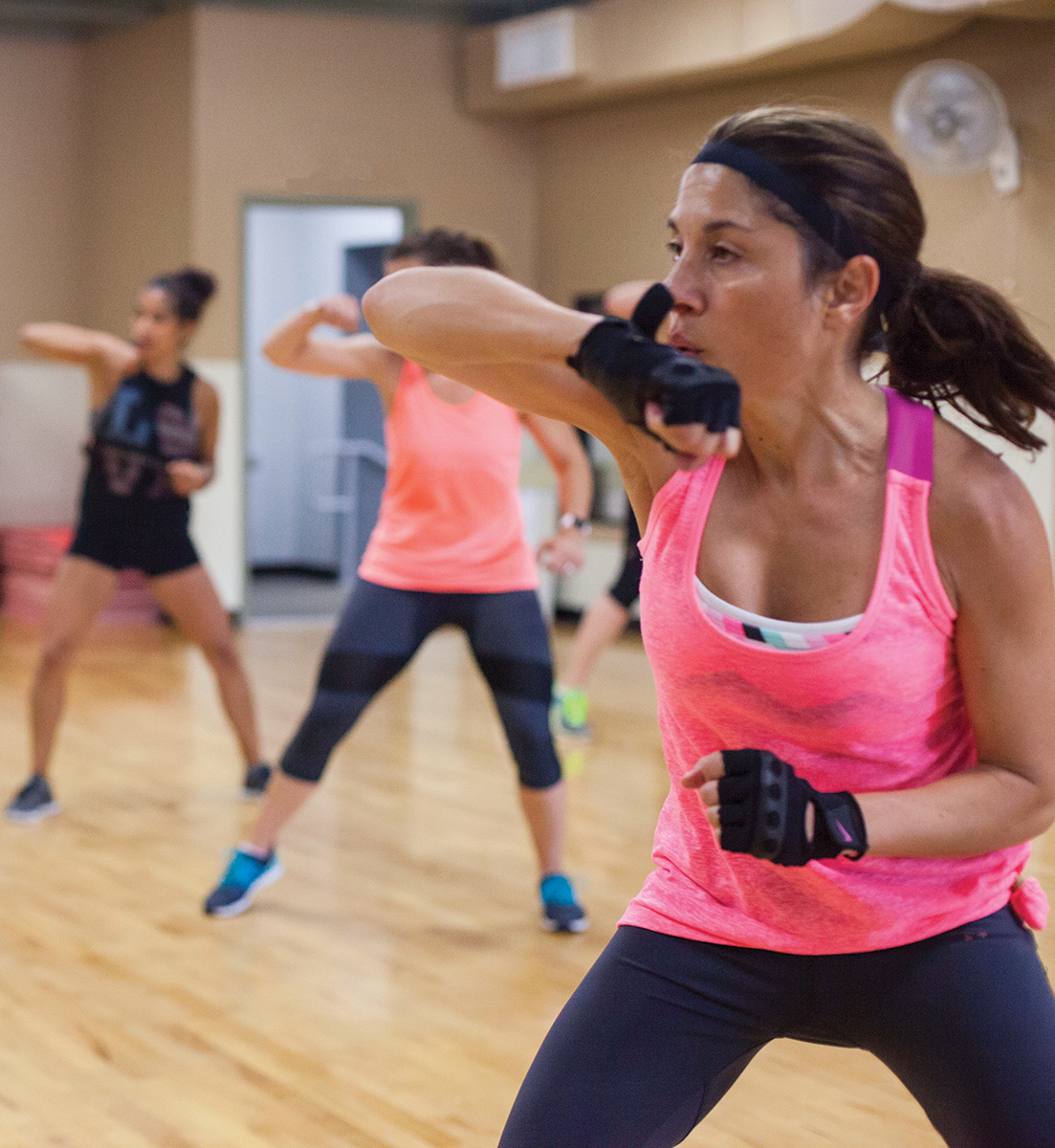 BODYCOMBAT™ is a high-energy martial arts-inspired workout that is totally non-contact. Punch and kick your way to fitness. No experience needed. Learn moves from Karate, Taekwondo, boxing, Muay Thai, Capoeira and Kung Fu. You'll find it's the perfect heart-pumping stress buster that makes you feel like a champ. Bring your best fighter attitude and leave inhibitions at the door.
Les Mills CORE™
More than just an ab workout, Les Mills Core is scientifically proven to fire the muscles of the posterior chain and enhance the body's functional strength and fitness.
RPM™
RPM™ is a group indoor cycling workout where you control the intensity. It's fun, low impact and you can burn up to 675 calories per session. With great music pumping and the group spinning as one, your instructor takes you on a journey of hill climbs, sprints, and flat riding. In an RPM workout, you repeatedly spin the pedals to reach your cardio peak then ease back down, keeping pace with the pack to lift your personal performance and boost your cardio fitness. RPM is a great way to build your sense of personal achievement. You can draw on the group's energy and find your rhythm in the music. You control your own resistance levels and speed so you can build up your fitness level over time. It's a journey, not a race!
Cycling Class
This classic spin group exercise class on stationary bikes is a fantastic cardiovascular workout. Your instructor will guide you through adding resistance to tackle hills then pull back to sprint the flats and more—all to motivating music! The instructor, as well as the people around you, will keep you motivated and coming back. Please bring water and a towel.
Zumba
This calorie-burning, heart-racing, body-energizing workout uses hypnotic Latin rhythms and easy-to-follow moves to deliver a dynamic workout that is FUN! Each instructor choreographs their own playlist, so your class will always be fresh and lively plus you'll learn new moves you can take out on the dance floor.
Step-n-Tone
An easy-to-follow cardio and toning workout using a step platform and hand weights. You will enjoy a full cardio workout combined with body conditioning exercises to burn calories and strengthen and tone muscles in the entire body. 
BODYSTEP™
Basic stepping, just like walking up and down stairs, is at the heart of BODYSTEP™—a full-body cardio workout to really tone your butt and thighs. Our certified instructors coach you through the entire workout while playing invigorating music and inject a whole lot of fun and personality along the way.
BODYFLOW®
A yoga, Tai Chi and Pilates workout that builds flexibility and strength, leaving you feeling centered, stronger and calm. Controlled breathing, concentration and carefully structured series of stretches, moves and poses create a holistic workout that brings your fit body into a state of harmony and balance.
Yoga

"Strengthen, relax and breathe." This class will connect our breath and yoga postures, in an athletic vinyasa flow, that will leave you energized and refreshed. Come explore the many benefits yoga can offer. All levels welcome.
SilverSneakers® Classic
Designed for seniors, this low-impact class is designed to increase muscular strength, range of motion and increased activity for daily living. Hand-held weights, elastic tubing and balls are offered for resistance; a chair is used for seated and standing support.
SilverSneakers® Circuit
Designed for seniors, this class is designed to promote cardiovascular and muscular strength through non-impact choreography. Class focuses on the benefits of circuit training to increase cardiovascular and muscular strength without increasing the risk.
SilverSneakers® Cardio
Get up and go! Designed for seniors, this easy-to-follow, low impact class includes range-of-motion exercises along with strength training, abdominal conditioning, stretching and relaxation—all designed to energize your active lifestyle.
Zumba Gold
Dance-inspired moves specifically choreographed to Latin and international dance rhythms for the active older adult, the beginner participant and other special populations that enjoy uncomplicated, easy-to-follow dance routines. New dance moves are added often, keeping you motivated while challenging your cognitive skills. The perfect, mind/body synergy!